About Mr Jahangir Ahmed
Consultant ENT Surgeon
ENT
Sub-specialties: Head, Neck, Acute and chronic cough, Snoring, Sleep Apnea, Thyroid Disorders, Laryngology, Endocrine Surgery, Neck Lumps, Head and Neck Cancer, Salivary Gland Lumps, Tonsil and Adenoid Disorders, Swallowing Disorders, Sinusitis, Nasal Polyps, Nasal Allergy, Microlaryngoscopy, Larynx and Vocal Fold Surgery, Airway Obstruction, Throat and Neck Pain, Nasal Blockage, Tracheal Surgery, Laser Surgery , Airway Reconstruction, Tonsillectomy, Palatal Surgery, Robotic Surgery, Head and Neck Cancer Surgery, Lymph Node Excision, Neck Dissection, Thyroidectomy, Parotidectomy, Submandibular Gland Excision, Endoscopic Sinus Surgery, Septal and Turbinate Surgery, Head and Neck Surgery, Ear Nose and Throat.
Mr Jahangir Ahmed is a Consultant in Laryngology and Head and Neck Surgery at OneWelbeck ENT.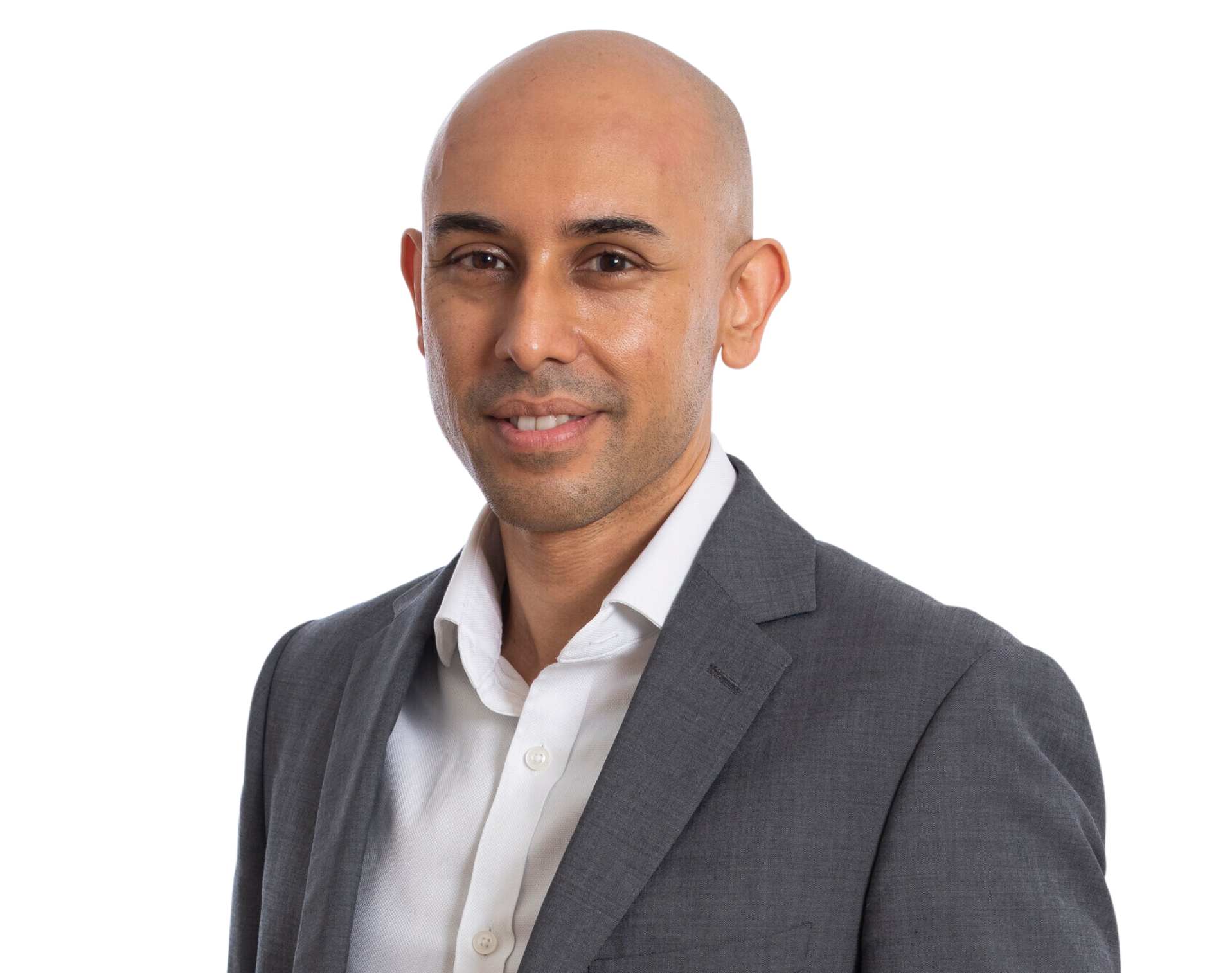 Areas of Expertise
Mr Jahangir Ahmed treats various conditions including the following:
Airway obstruction/ narrowing
Head and Neck Cancer
Tonsil and adenoid disorders
Throat and neck pain
Nasal blockage
Nasal allergy
General ENT
Some of the treatments and procedures Mr Ahmed offers are:
Microlaryngoscopy
Larynx and vocal fold surgery
Tracheal surgery
Laser surgery to larynx
Airway reconstruction
Laser tonsillectomy
Palatal surgery
Transoral robotic surgery
Head and neck cancer surgery
Lymph node excision
Neck dissection
Thyroidectomy
Parotidectomy
Submandibular gland excision
About Mr Jahangir Ahmed
Jahangir (Jay) Ahmed is a consultant specialising in laryngology, head, neck and thyroid surgery who practises at Barts Health and University College Hospitals NHS Trusts. He is the current chair of the head and neck MDT at Barts Health and an integral member of the Barts Thyroid MDT.
He was educated at King's College, Cambridge University where he achieved the Harmer prize for Medicine and obtained an MA in experimental psychology. He completed clinical education at Imperial College, London, graduating with the Gold-medal in Pathology.
His higher specialist training occurred in London's premiere ENT hospitals, including The Royal National Throat Nose and Ear, Great Ormond Street, St Bartholomews, The Royal London and Charing Cross Hospitals, giving him a broad, high quality ENT training experience. During this time, he was awarded competitive research fellowships from The Welcome Trust, The Barts and London Charity and was a Royal College of Surgeons Academic research fellow.  These culminated in a PhD from The Barts Cancer Institute, where he genetically optimised Vaccinia viruses for immune-therapeutic cancer treatment.
Mr Ahmed has a high-volume practice and expertise in the surgical management of voice disorders, complex airway reconstruction and benign and malignant head and neck tumours of all subsites including tonsil, tongue, pharynx, larynx, salivary gland and thyroid. In addition, he has a passion for and runs a unique tertiary referral service for the surgical management of obstructive sleep apnoea (OSA) refractory to CPAP.
Mr Ahmed is one of the core thyroid surgeons in the Barts Health Thyroid Multidisciplinary team (MDT); this is one of the largest thyroid cancer groups in the UK. He has a high-volume thyroid surgical practice and is one of the few surgeons designated to perform selective neck dissection in thyroid cancer patients with advanced disease.
Mr Ahmed is highly skilled in scarless, through the mouth (transoral, microlaryngoscopic), minimally invasive technology such as laser, robotic and advanced endoscopic sinus surgery; putting him in a unique position to offer safe state of the art surgical treatment from nasal passage to voice box. Indeed, he has one of the largest such transoral robotic practices in the UK, using DaVinci robotic systems to remove tumour or obstructive tissue.
Mr Ahmed runs head and neck "one stop" and "voice" multidisciplinary clinics at Barts Health. There, he also forms part of a dedicated team that is able to offer every modality of treatment for patients suffering with sleep disordered breathing (from snoring to severe OSA), ranging from CPAP to transoral robotic surgery. Indeed, the team's latest surgical audit has demonstrated tremendous success with 90% of CPAP dependent OSA patients who had robotic surgery, coming off their CPAP post operatively.
Mr Ahmed is passionate about teaching. He holds a PGCert in Medical education. He is education co-lead at Bart's health; facilitating a training program for North-Thames higher surgical trainees and junior doctors. He is also a member of the faculty in a number of London based instructional training courses in ENT.
Mr Ahmed's involvement in academia (see below) and teaching ensures he keeps abreast of the latest evidence-based treatment protocols and technology in ENT.
Mr. Ahmed has gained a reputation for providing the highest quality care to every patient he treats. He is a firm believer of personalised medicine and aims to provide bespoke, individualised treatment plans for his patients. He will be readily accessible throughout their clinical journey and beyond, to ensure as comfortable an experience as possible.
Reviews
Additional Information
Memberships
Fellow of the Royal College of Surgeons of England
ENT UK
British Laryngology Association
Awards
Chairman of the Barts Health Head and Neck MDT
Honorary clinical lecturer at Queen Mary University of London
Wellcome Trust, Clinical Research Fellowship 2012
Barts and the London Charity Clinical Research Fellowship, 2011
RCSEng Clinical Research Fellowship, 2011
HCW Vines Prize for pathology, Imperial College, 2000
Steadman Prize for pathology: gold, Imperial College, 1999
Harmer Prize for Medicine, King's College, Cambridge University, 1996
Research Highlights
Dr Jahangir Ahmed has a keen research interest in minimally invasive transoral surgery and molecular treatment of cancers. He is an honorary clinical lecturer at Queen Mary University of London. He is widely published, thus far with 30 publications in peer-reviewed scientific journals and 12 book chapters in respected surgical, clinical and scientific textbooks. His research and clinical experience are regularly presented at national and international meetings.
Research Interests
Minimal access head and neck oncologic resections: facilitated by Transoral laser and Transoral robotic surgery
Surgical management of obstructive sleep apnoea refractory to CPAP / other conservative measures
Molecular treatment of cancers, oncologic immunotherapy and virotherapy
The management of complex voice and airway obstructive disorders
Book an appointment
Book a consultation
Choose from available days
Dec 2023
MON
TUE
WED
THU
FRI
SAT
SUN
Appointments available on this day
Click any unavailable day to check availability with similar consultants
Mr Jahangir Ahmed is a Consultant in Laryngology and Head and Neck Surgery at OneWelbeck ENT.