Treatment: Breast Services
If you have symptoms that lead you to be concerned about a problem with your breasts, then you can make an appointment with one of our expert breast surgeons, who offer a range of services to ensure that you receive the appropriate care and treatment.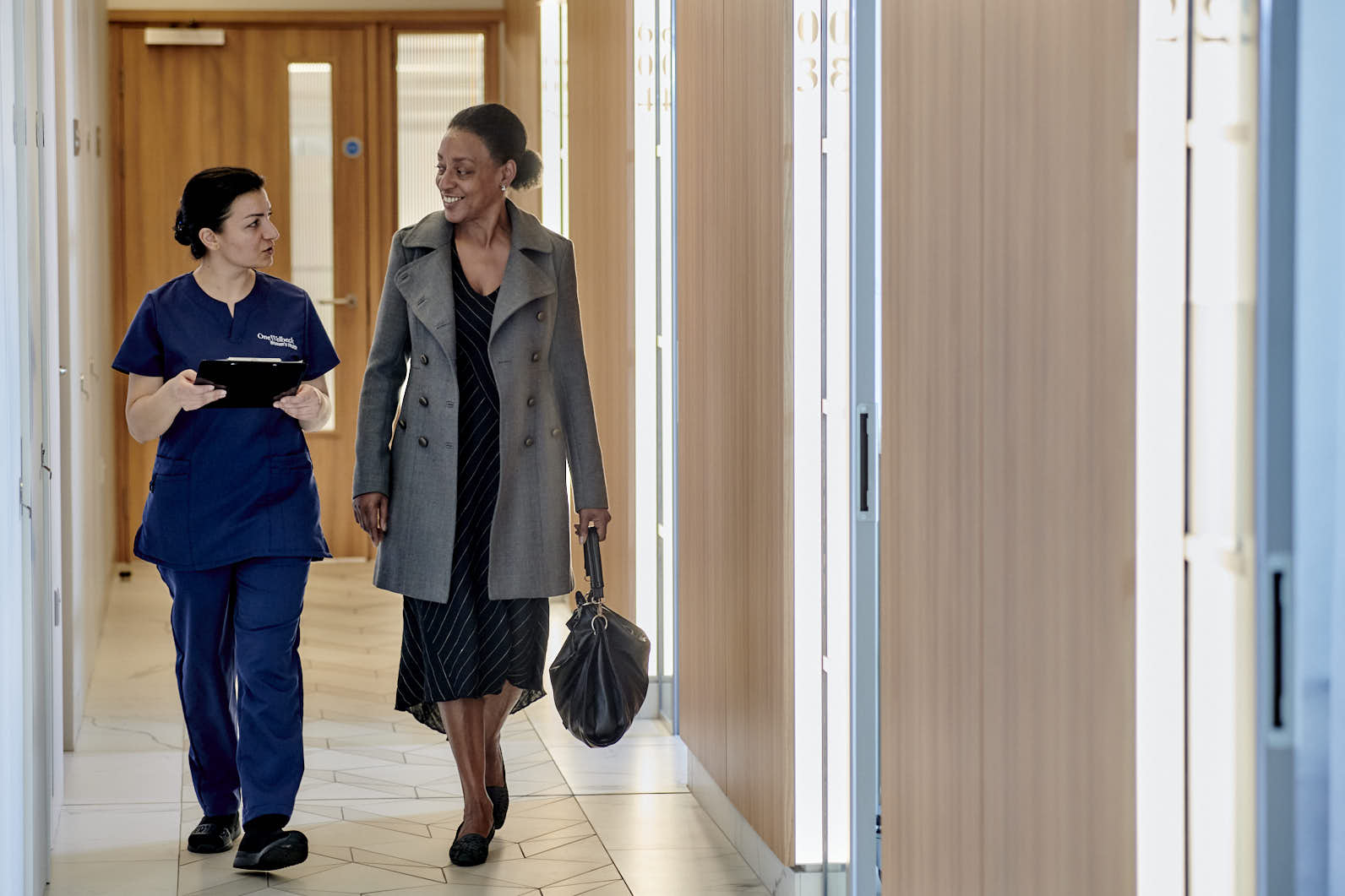 Breast Cancer Rapid Service
If you have any concerns about a problem with your breasts you can visit our One Stop Clinic. Problems which should be investigated include:
A breast lump – most breast lumps are not due to breast cancer, but any lump in the breast needs to be checked to ensure that it is not harmful.
Change in shape of the breast or nipple changes.
Nipple discharge.
Breast pain – this is rarely serious but causes concern and discomfort. It is sometimes caused by infections which need to be treated urgently and is often associated with lumps, which need to be investigated.
Problems with breastfeeding.
Discussion of risk of breast cancer due to a family history.
Men can also have breast problems and may need help.
Menopausal changes and advice with respect to HRT.
Any cosmetic problems can be discussed with our expert plastic surgeons.
Find out more about breast symptoms and how to be breast-aware.
What is a one stop clinic?
At OneWelbeck Women's Health, we offer a rapid service whereby you will be seen and examined by one of our breast cancer specialist surgeons. You will then be offered appropriate imaging of the breast with either ultrasound and/or a mammogram using Tomosynthesis – which is the most advanced technology currently available. Results are delivered during the same visit, all within our bespoke Enhanced Breast Screening Centre. Any further investigations such as MRI or blood tests can be arranged within OneWelbeck usually on the same day.
Breast Cancer Treatment
When people talk about breast cancer, they refer to it as though it is just one thing, but it varies enormously from case to case and a variety of different treatments may be needed.
The treatment needs to be tailored both to the nature of the disease and to the individual needs of different patients. Therefore, any further treatment that is needed would be discussed by a multi-disciplinary team of experts which includes:
A surgeon, who advises on the operation which is best for treatment and gives the best cosmetic outcome.
Radiologists, who interpret the images.
Pathologists, who look at tissue that has been removed, and diagnose the problem.
Oncologists, who decide on the best additional treatments where necessary.
Breast care nurses are available throughout to provide support and a point of contact.
Geneticist to advise on family history and organise testing.
Psychologists and psychiatrists for emotional support and treatment of anxiety.
Patients who require removal of a breast lump or who require an inpatient stay, can be referred and admitted to a local private hospital under the care of your chosen breast cancer specialist surgeon.
We can also call on specialists in other fields for help with issues such as fertility and management of symptoms of hormonal changes caused by treatment. We also have access to complementary therapists for help with management of symptoms as well as psychologists to provide support.
Get In Touch
To find out more about our breast services or to make an appointment, simply fill out the form below and a member of our team will follow up with you. Alternatively, you can call the centre directly on 020 3653 2008, or email bookings.womenshealth@onewelbeck.com.
Treatment Programme
Breast Services