Interview with Andy Barlcay
Andy Barclay, a percussionist for the London Philharmonic Orchestra, underwent hand surgery with Mr Simon Owen-Johnstone, Consultant Orthopaedic Surgeon at OneWelbeck Orthopaedics. OneWelbeck's marketing team interviewed Andy to find out more about his journey from injury to recovery.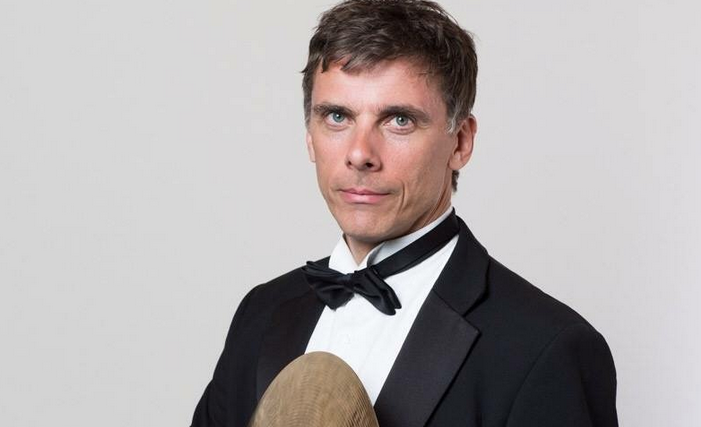 How long have you been a percussionist?

Since I was about 11, so about 45 years now. I've been in the orchestra for 26 years.
What is your favourite piece of percussion to be on?

Ah, I hate that question. I think the cymbals are quite good fun, I don't do it so much now – being principal I tend to do 'loftier' things – but I used to play the cymbals a lot when I was younger. It can be very loud and it's very dramatic.
Tell us about your hand- when you first thought there might be an issue with your hand, what the diagnosis was etc?

Well, at some point, I noticed the middle of the palm in my hand was sore and had a lump. Somebody must've looked at it and said, 'I think you might have a cyst'. The actual diagnosis took place in a bar in Madrid, when I was on tour, with a bassoon player called Simon. He looked at it and said, 'You've got Dupuytren's contracture' and explained that he had suffered from the same thing. It's basically a knot of scar tissue inside the hand. It eventually pulls your finger up, kind of like what Bill Nighy has. He should've come to Simon!
That was a few years ago, but I was advised to just keep massaging it, but eventually it did start to hurt, and it did start pulling my finger in, although it didn't affect my playing for a long time. I decided to go and see Dr Barry Grimaldi who confirmed it was Dupuytren's contracture, which is actually also known as 'Viking's disease' because I guess it's more prevalent in those with  Scandinavian DNA. He told me to just keep an eye on it and it eventually got worse, so he advised me to go and see Simon, who basically sorted it out for me.
What made you want to get it treated this year?

Given the partnership between the LPO and OneWelbeck, and having access to these amazing consultants, I just thought I had to get this done now. If I had to leave it for a few more years, I was worried that it would get to a point that it would be difficult to correct. Although it wasn't particularly extreme, it was really good to be able to get in early. I may have to have the procedure done again in a few years because you can't cure it, you can only really control it. Maybe about five years or so. With some exercises, I'm now able to keep my hand open and stretched.
Do you have any scarring?

No because Simon's very good…write that down! The procedure itself felt very relaxed and not surgical – it was just a case of local anaesthetic, but the atmosphere was really nice even though it is supposed to be an intense procedure.
Were you anxious about being under local anaesthetic?

No, ask my dentist! I had total confidence in Simon because he was very assured that we were going to have a good outcome, so it makes you feel relaxed and you know you're in good hands.
What was your recovery like, how long was it until you could play again?

As Simon explained, he said your hand will be fully functional straight after the procedure, it will just be sore. I left OneWelbeck with just a dressing on it, feeling a bit bruised and sore, but it recovered relatively quickly. From what I understand the procedure doesn't involve cutting through anything that controls the movement or anything in your hand such as ligaments. You're just trying to cut through the stuff that shouldn't be there anyway. Apart from the swelling and bruising, which is to be expected, my hand was functioning well. It's quite a long process for full recovery, so I wouldn't say it's fully recovered, but the movement was much better virtually straight away.
Tell us about Dr Barry Grimaldi, have you seen him a lot during your time in the LPO?

I've seen him a couple of times. He's fantastic. You can tell he's just a phenomenal physician. He's very easy-going. Growing up I always felt like when I had to go to the GP, I had that same feeling as if being sent to the headmaster at school. I've got terrible white coat syndrome.
I found that Barry's very reassuring, you can have a laugh and a joke with him, and overall, he's been extremely helpful. I've also got a terrible family history to do with heart disease, it's what my dad died from, and he was able to really help with my concerns. I had a few investigative things to ask, and he was able to put my mind at rest after forty years of being worried about it. So that was amazing.
He's a musician himself, he plays in this thing called 'World Doctor's Orchestra'- because Doctors are these irritating people who can do everything brilliantly.
I imagine there's a bit of a "shrink" element that plays into his job role – maybe not with you personally but are you aware of other musicians who would go to him for any reassurance needed?

I'm not too sure, I mean there's a lot of bio-mechanical stuff, like violinists or people who use their shoulders a lot. But sometimes, because we're self-employed, it's the case of knowing you can go and see someone and have it sorted out pretty quickly. Instead of having to wait and get a date that doesn't fit in with your schedule etc. For someone like me who hasn't had experienced that before, it's strange – but that's an important side of this as well
And of course, if you do have something wrong with your hand, it's important for a musician to see someone straight away.
That must elevate your stress levels too?

Yeah, I mean the wonderful NHS is always there, but with something like that I don't know how it would be, I doubt they would start running around for me if I just suddenly announced that I work in the orchestra. It just can't be like that. When there's a little bit of pre-knowledge of who you are, and what you do before you go in to see somebody, it does help; it can help put your mind at rest about things.
We do work hard, and sometimes it can be a bit relentless when you go away on tour. Sometimes people focus on their music and put their own well-being second place, and it is a very physical job.
Do you think you have any regrets when it comes to the procedure on your hand?

Definitely not. I feel very, very lucky that I was able to have it done because I just think it was going to carry on. Honestly, it wasn't even things like the music that it was affecting, it was things as simple as washing my hair in the morning, trying to put something in my pocket, or tucking your shirt in your jeans. Every morning within 5 minutes, I was reminded that there was this problem with my hand, because there was something I couldn't do properly – and that is depressing. Now it's pretty much back to normal.
I think just as I get older, you naturally make transitions and switch to different instruments and think ok well, I've done enough of that now….
Now that you've been to OneWelbeck, and had your treatment- would you say that you would come back to us in the future?

Yes definitely, I really find the centre comforting too, just being able to come in and being asked if I would like a cup of coffee- I think oh yeah, I could get used to this! It's lovely.
How OneWelbeck
can help
Here at OneWelbeck, we have a team of gastroenterology specialists, state of the art facilities and diagnostics, and highly competitive financial packages for self-funding patients as well as those with private health care.
Orthopaedics